Lorry driver lost almost half his body weight and now rides up mountains on his bike.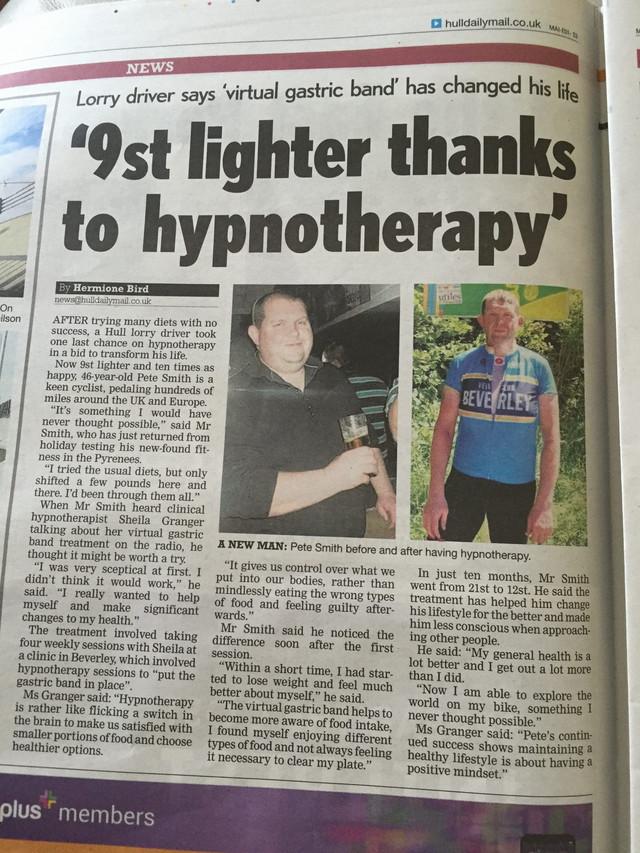 For people who enjoy getting out in the open air, there is little that can beat the simplicity of a bike ride. Yet the sense of freedom enjoyed by cyclists is not something Pete Smith would have imagined before he took control of his weight, using only the power of his mind.
Now, life couldn't be more different for Pete. The 46 year old lorry driver from East Yorkshire shed 9 stones after success with the virtual gastric band, dropping from 21st to 12 stone in just 10 months with the help of clinical hypnotherapist Sheila Granger.
Pete Smith looks back at his life before hypnotherapy and cannot believe he is talking about the same person. Now, four years later, you can find him cycling hundreds of miles around the UK and Europe, having just returned from a two week holiday testing out his fitness in the iconic climbs of the Pyrenees, but this is a million miles away from his old life. After trying and failing with various diets, Mr Smith knew drastic action was needed. The familiar story that many dieters experience, following a diet for a period of time, then piling weight went back on, and more.
Clinical hypnotherapist, Sheila Granger says: "I recently caught up with Pete to find out how he was getting on with his fitness lifestyle. His continued success shows that maintaining a healthy lifestyle is about having a positive mindset. Hypnotherapy supports this way of thinking, rather like flicking a switch in the brain to be satisfied with smaller portions of food and choosing healthier options. It gives us control over what we put into our bodies, rather than mindlessly eating the wrong types of food and feeling guilty afterwards."
As a result of the virtual gastric band, Pete's life has transformed beyond recognition. Fours years on, he still works as a lorry driver and has continued making healthy meal choices. He is still motivated to exercise as he spends his spare time out in the countryside, cycling long distances and holidaying in some of Europe's magical beauty spots, which can only be seen by getting out on a bike. Mr Smith says, "I really wanted to help myself and make significant changes to my health. The virtual gastric band helps to become more aware of food intake. I found myself enjoying different types of food and not always feeling it necessary to clear my plate." He added, "I had four, weekly sessions with Sheila at her clinic in Beverley and within a short time, I started to lose weight and feel much better about myself. Now, four years later, I am able to explore the world on my bike, something I would have never thought possible."