FLYING THE FLAG HYPNOTHERAPY PROFESSION AT NATIONAL BUSINESS AWARDS FINALS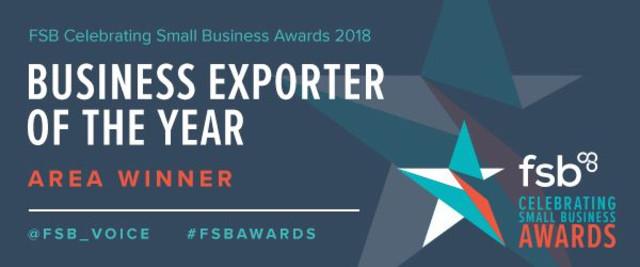 I'm overwhelmed and delighted to reveal that I'm through to the national finals of the prestigious Federation of Small Businesses Awards.
I have been invited to attend a glittering award ceremony taking place at London's Park Plaza Westminster Bridge hotel, on 3 May, to discover if I've won the national 'Business Exporter of the Year' title, for which I'm pitted against 11 other finalists from across the UK. Running my international hypnotherapy training business from my East Yorkshire home, I see this as all-important recognition for the clinical hypnotherapy profession.
What is clinical hypnotherapy?
Clinical hypnotherapy is an incredibly powerful discipline which has the ability to literally change people's lives for the better, but sadly it is often overlooked or dismissed as a form of hocus pocus, simply because people don't really understand it.
My backstory
Over the years, I've achieved some incredible successes in developing my own treatment programmes to help people overcome problems ranging from over-eating and obesity, to lack of self-confidence and fear of flying. My focus is now on helping other practitioners around the world to develop their own hypnotherapy businesses, to help spread the benefits to even more people, and by doing that to increase the credibility and standing of our profession, against other forms of treatment including more traditional healthcare.
Recognition like my FSB regional award win and national shortlisting are invaluable in helping me to achieve this goal, and I'm very excited to see the result in May although – win or not – just being involved alongside other, more traditional businesses, is an important step forward.
I was named 'Yorkshire & Humber 'Business Exporter of the Year' at the FSB's regional awards event which took place at the John Smith's Stadium in Huddersfield in early March. The judges explained they chose me for my success in building up a successful global business teaching my clinical hypnotherapy and business development techniques to thousands of fellow practitioners all over the world.
Powered by a vision
All of this is great timing, of course, as I'm just about to embark on my latest worldwide tour to countries including Switzerland, the USA and Canada. In fact, I've been living out of a suitcase ever since I achieved international recognition for my pioneering 'virtual gastric band', which helps people lose dramatic amounts of weight by re-booting the way they think.
Over the past six years, I've built up a network of 2,500 clinical hypnotherapists, in nine countries around the world, giving them the know-how and confidence to turn their practices into business successes, using my methods. I recently took this process one step further, by franchising my Sheila Granger brand and enabling other, carefully-selected practitioners to deliver therapist business training using my model. This saw my already-successful business grow by a further 20 per cent in just the past six months where I now have 20 franchisees in Australia, New Zealand, Canada, Belgium and the United States, using my branded courses covering areas of hypnotherapy business development including marketing, business growth and financial management. My ultimate goal is to have 200 franchisees on the programme, giving me the potential to reach every hypnotherapist in the world and teach them the foundations of success.
If you would like to find out more about achieving business success by training as a hypnotherapy practitioner with my support, get in touch for more details.