Don't be Hull'd back!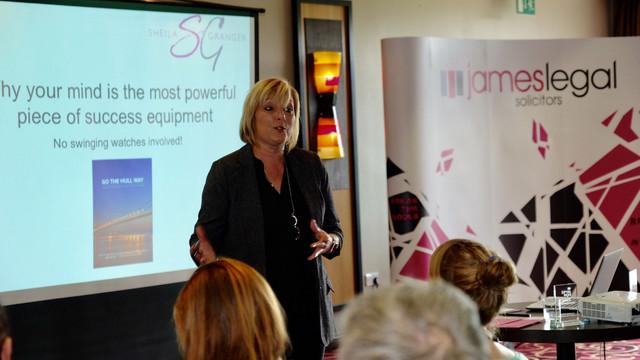 I challenge 100 businesses to take my 'positivity challenge' for the sake of our city's 2017 legacy! A positive mindset is not just vital for individual business success, collective glass-half-full thinking will be the thing to tip the balance in terms of securing Hull a lasting legacy from our City of Culture 2017 status.
This was the crux of my keynote speech at the final James Legal – The Business 2017 masterclass of this year.
I tour the globe, teaching other clinical hypnotherapists how to build successful businesses while flying the flag for my hometown. I know from clinical experience the transformative effect thinking the right way can have on every aspect of a person's life, including how successful they are in business. I believe that tackling this collectively is essential to ensuring my city is not held back by its traditional underdog thinking at this pivotal moment in its history.
"Hull people are, I believe, some of the most fantastic you could meet," I told delegates. "They are friendly, good-hearted and packed with dry humour and edgy creativity. But the flipside of this is they almost like to sell themselves short as a coping mechanism in case things don't quite pan out as they had hoped. They expect the worst so that it won't bother them too much when it happens!" I added, "the reality is, though, that really great things are happening in the city, right now, and to make sure we see this through to the end, we really do need to make sure we take hold of any negative thinking and channel it in the right direction. This is particularly true in our business community because it is the beating heart of the city's regeneration." I later stated, "for the first time, probably ever, we are seeing major investment by big international players; interest from around the globe in what we have to offer in terms of everything from art to property and, at last, some positive PR about what it is really like to spend time here." I added, "If we can grasp that and really, really believe in it, it will transform our fortunes and the way we are perceived all over the country and the world, forever."
I explained to the crowd that all of this boils down to whether people have a fixed or growth mindset. Those with a growth mindset are unafraid of risk and naturally seek to learn and overcome their limitations, whereas those with fixed mindsets tend to stick to what they know for fear of failure. I also explained that there are techniques for changing your mindset to achieve more positive results. My convictions on this topic stem largely from a series of interviews I undertook with famous and successful Hull folk for my book, Go the Hull Way, which will be published this Autumn. For that, I spoke to the likes of boxer Tommy Coyle, the 'Bee Lady', Paul Sewell of Sewell Group and 'gadget man' Jonathan Elvidge, about their ingredients for making it. I found that, in all cases, it was an attitude of mind that had got them where they are today. I told the masterclass attendees: "People with a growth mindset believe anyone can be good at anything because your abilities are entirely due to your actions." I added, "the growth mindset believes trouble is just important feedback in the learning process, and flaws are just a 'to do' list of things to improve. Growth mindset entrepreneurs show long-term resilience, repeated innovation, and the necessary drive for future enduring success. Some of Hull's most successful people do this naturally, but anyone can learn to do it." This is where I laid down a challenge to the city's businesses at the masterclass. "Can our businesses influence the mindset of a city?" I asked them. I told them I believe they can be the catalyst for long-term change, and become the role models of a growth mindset for the city. I gave them a '100-day positivity challenge', aimed at moving away from 'pushing' the people of Hull to think and behave in a certain way, to 'pulling' them up. I invited them to do this via steps like altering the customer experience we create in the city, to leave people with a lasting, positive memory, creating a good vibe among their teams and instilling confidence, and even giving their businesses a positive makeover – for example, removing any signs that contain negative messages and replacing them with smiley faces!
How many people could we impact collectively?
Well, if 100 businesses now take up my challenge, and each business deals with just 20 customers a day - 200,000 people could be impacted by the positivity, creating a ripple effect of irresistible positivity, renewed confidence and, as a result, increased success. Almost 100 businesses attended the 'Mind Over Matter' event, at the Hallmark Hotel, North Ferriby, last Wednesday. The event also saw James Legal announcing the two winners of its Business Booster competition, that will share a raft of business growth support worth £45,000, to help them move to the next level. They were marine, hazardous area and offshore specialists Pearson Electrical Ltd, and non-for-profit organisation Lessons 4 Life, which is on a mission to eventually bring first aid skills training to every child in the city and beyond.
James Legal organised the masterclass as part of its James Legal – The Business 2017 campaign, which is designed to act as a catalyst for helping the region's companies to seize the opportunity this special City of Culture year represents for Hull and its environs. The campaign is one aspect of the fresh-thinking legal firm's commitment to giving something back to the community it operates in. The Hull-based firm teamed up with a range of partners to run the campaign and competition, including the Yorkshire & Humber arm of the Department for International Trade, the Humber Local Enterprise Partnership, Sirius, the Hull & Humber Chamber of Commerce – and local businesses including Computanet, Elliott Hygiene Ltd, Peacock Finance, The Business Culture Hull, 360 Accountants, Fifty Squid Video, The Marketplace, Arrival Design, Yorkshire Bank, Dare Greatly and By Tracy Fletcher Ltd PR.
James Legal MD and Solicitor Nick Miller said: "Sheila had some fantastic advice for the businesses attending our event, which will help them to achieve even greater success in the years to come. It was a fitting end to a great year for the city and we've been privileged to play our own, small part in its success, through our campaign and competition." They added, "we're very grateful to all the partners that have joined forces with us to make it possible, and we'll be announcing plans for keeping up that positive momentum soon."