Seminars and Webinars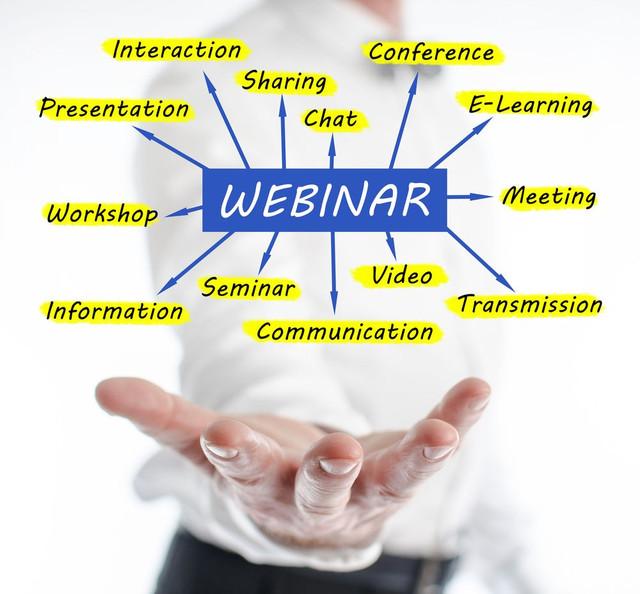 In previous blogs we've looked at marketing methods to bring your services to the attention of your target market, ranging from leaflet campaigns to mutual referral networks. In this blog we're going to examine the value of providing learning material through seminars and web seminars or 'webinars'.
Seminars and webinars are a popular method of showcasing your talent and expertise and sharing knowledge that puts you in direct contact with potential interested customers, and reinforces your position as a trained and trustworthy practitioner.
Seminars and Webinars need to have a well-focused purpose, and it helps to give them an interesting and provocative title. Remember that you've got to avoid directly selling your services. Your objective is to share some of your knowledge and leave your potential customers feeling informed and well disposed towards you.
Content
The content of your webinars and seminars should reflect your chosen specialism. You should aim to create a presentation that starts with some general education about hypnotherapy, what it is and what it can achieve, before going on to explore some knowledge and advice around your specialism.
Structure
How you structure your presentation depends on whether you are holding a traditional face-to-face seminar, or a webinar where attendees log in to receive a live, virtual presentation. Each has its own merits. A seminar has the advantage of actually putting you in direct personal contact with your potential customers, but is geographically limiting and has, depending on your chosen venue, significant costs attached for refreshments, organising and hosting.
A webinar on the other hand, allows you to present to attendees anywhere in the world, and comes in at a significantly lower cost, despite needing to use the services of a webinar delivery network such as WebEx or Google Hangouts. A disadvantage of this is that you don't get to meet attendees personally.
The important thing to remember about webinars and seminars is that this is an opportunity for you to present yourself as an authority and expert in your field, rather than a platform from to sell your products and services.
Most webinar systems include their own presentation tools, and if you are hosting a seminar, you can use something like Microsoft PowerPoint to create a slideshow with images and text to accompany your delivery.
Webinars offer you the possibility of plugging them into your existing digital marketing efforts, so that means ruthlessly using your social media and email marketing to promote them well ahead of time. Similarly, if you are holding a local seminar, you need to get it advertised as widely and cheaply as possible. Sending a press release to local radio and media, making it clear that your seminar is an educational opportunity, is a good start. You can also use your referral network, and any local allied businesses to help you publicise it.
Fundamentally the success of your webinar or seminar depends on the quality of the content. Good content, interesting, educational and practical advice for example, will reflect well on you and your business. Disorganised, uninspiring and obvious content will do the exact opposite!