Endeavour School use hypnotist to help pupils with exams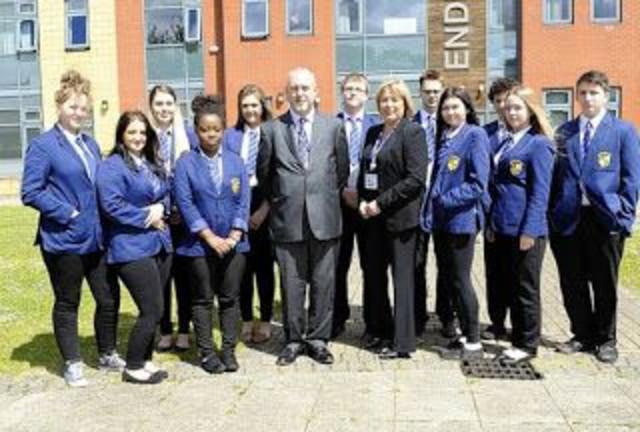 New Techniques: Headteacher Stewart Edgell and Sheila Granger with pupils. Picture: Jack Harland
Students at city school are being hypnotised to relieve exam stress.
Clinical hypnotherapist Sheila Granger has been working with GCSE students at Endeavour High School on techniques to help them through the exam period.
Teachers say the initiative is paying dividends, with students being better prepared than ever.
The Beverley Road school closes this summer and headteacher, Stewart Edgell is determined youngsters will go out on a high. He said, "We want the school to go out on a high this year, but ultimately we want our students to achieve the very best results that they can individually." He added "The work we have been doing with Sheila is to ensure students are in the best frame of mind when they sit their exams, and that any barriers to them performing at their best have been removed."
He later explained, "If you have a student who is worried and you bring someone in who can help them by arming them with new strategies and coping mechanisms, they feel valued that someone has taken note of their concerns and is doing something with them." He added, "When you get a critical mass of students being looked after in this way, it's much more likely everyone will perform better across the board."
Mr Edgell said the school has worked hard with its 101 students to ensure they achieve the best results they can. He said: "We brought Sheila in to work with students who we identified that would benefit from additional strategies for preparing for their exams, adopting a positive mindset and believing that they can do it when it comes to achieving their potential." He added, "We have worked with our students to help them structure their revision carefully and Sheila's work has dovetailed nicely into that in terms of giving them a positive outlook and creative ways of preparing for exams."
Massive student pressure
Sheila Granger, clinical hypnotherapist, said: "With exam season well and truly upon us, the pressure on students gains considerable momentum at this time of year. I have been delighted to work with Endeavour High School in the run up to this important time of year and it's been a real pleasure to work with the students there." She added, "We all have expectations placed on us, either by ourselves or by others, and it's these expectations that can cause us the greatest stress".
If you are interested in any of my services or need some questions answering, feel free to contact me via This email address is being protected from spambots. You need JavaScript enabled to view it. or visit my website.